Automative Dials
We are among the largest suppliers of printed dials in India. We provide all shapes and types of automotive dials including fuel level indicators, engine control panels, speedometers (including high speed warning), temperature indicator, RPM scale, and many more with provision of customization for every requirement. Usage of high quality raw materials helps get a long life with undisturbed quality.
We print on polyester, polycarbonates and so on. We have developed innovative approaches to technically overcome challenging application issues. Polycarbonates are transparent thermo formable material which has a superior impact resistance feature.
A complete graphic solution is available with the company and our designers will be happy to work with you to help you meet the exact specifications. Our complete design and manufacturing unit is available under one roof with the inventory and fulfillment system satisfying customers both small and large. Decorated product dials ad appear on millions of Indian products, including some of the best known names in consumer and automobile products.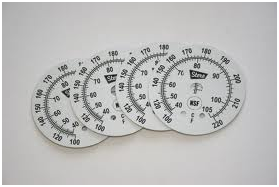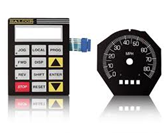 Iso 9001:2008
for the following activities
Manufacturer and Supply of P.u.. Logos, Graphic Overlays, Membrane Switches, Cards and printed Dials