Savira Domed Labels
Domed labels are manufactured by dispensing a 2 part polyurethane over a custom imprinted vinyl label forming a tough scratch resistant self healing flexible lens label. The domed label can be cut in just about any shape required to conform with your logo or artwork. Domed labels are supplied with an aggressive adhesive that will last for years in the brightest sunlight and coldest nights.

Flexible clear polyurethane domed labels are specified by product design engineers whenever new product badging ideas are being considered due to the unlimited full color process printing that domed labels offer.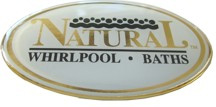 Domed labels are resistant to water which makes them a good solution for labeling whirlpool bath tubs sinks granite countertops.

Boat manufacturers buy domed labels due to the dome label being resistant to saltwater as well as personal watercraft decorating, waterski labeling and any other products that are exposed to harsh environments.

Vending machine manufacturers use domed labels on machines that are exposed to all the elements. Domed labels are treated with ultraviolet resistant polyurethane that does not yellow.


Domed labels are used to enhance car emblems, steering wheel centers dashboard plaques auto dealer advertising car stickers etc.


Inexpensive domed labels are very popular for labeling computer cases and computer tower branding. Put your computer company logo on all your computers.



Manufacturers use domed labels on all types of products from car wheel centers to labeling exercise equipment. The crystal clear resin forms a magnifying effect on the artwork, an eye catching feature that will increase the perceived value of products.



Domed labels are a great way to label products for brand recognition.

Iso 9001:2008
for the following activities
Manufacturer and Supply of P.u.. Logos, Graphic Overlays, Membrane Switches, Cards and printed Dials