Membrane Switches
A membrane keyboard has two Screen printed polyester films with conductive ink to form the circuit layers of the keyboard. In between two circuits a die cut spacer at contact points is then sandwiched. To complete the circuits a touch of finger on the die-cut holes allows to close the contact. Up on release the circuit is broken. In put device user identifies the specific keyboard contacts through a graphic overlay. For interfacing with the customer's electronics the panel back is laminated with an adhesive for mounting to a backer or enclosure and can be terminated to a Male/ Female clincher connector. Membrane switch is rapidly outdating the present type of the electronic switches i.e. micro switch, push button switches, silicon rubber keypads etc. It is gaining widespread popularity and use because of its various characteristics. It is dust-proof, humidity proof; heat proof (can work even at 100 °C and -10°C). This is so because the membrane switches are completely sealed and polyester sheets are used to manufacture the membrane keyboard. Polyester sheets have the softening temperature of 125°C and melting temperature of 250°C. Membrane switches have contact life of more than 5 million contacts for non-tactile and more than 2 million contacts for the tactile type. It also ensures minimum mechanical movement, which means minimum chances of switch failure. It is economical and gives outstanding appearance. 
TACTILE MEMBRANE KEYBOARD
Tactile membrane keyboard is an enhancement, which provides the user feedback when they press the key location. The keyboard consists of a top and bottom layer of polyester with a tactile actuator that when pressed, momentarily complete the circuit while providing the user a degree of response based on the keyboard construction. The diagram shown aside gives a clear view of a typical tactile membrane keyboard.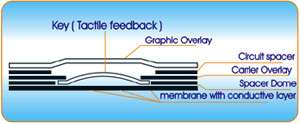 NON TACTILE MEMBRANE KEYBOARD
The difference between Tactile & Non-tactile membrane keyboard is that Non-tactile rely on a sensory touch than tactile touch, such as audio or visual stimuli that alerts the user to switch the keyboard off. Non-tactile keyboard are used in tough environment and are more conductive in applications where large, hidden or irregular shaped keys are requirements. The diagram shown aside gives a clear view of a typical Non- tactile membrane keyboard.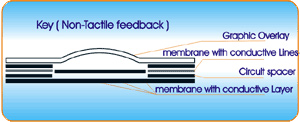 RIGID PRINTED CIRCUIT BOARD SWITCHES
Rigid printed circuit board switches are utilized in situations where there are trace routing limitations with traditional membrane switches or the OEM customer would like to utilize the PCB as a rigid backer that can also be populated with active and passive components, reducing the amount of materials and interconnects.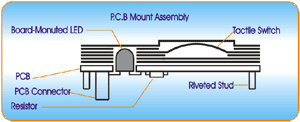 INTERCHANGEABLE LEGEND
Where preprinted information cannot be included in the Graphic layers a series of pockets can be engineered to accept additional legend strips thus making the panel very user definable and friendly.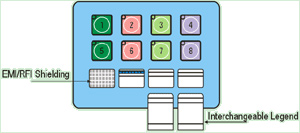 STANDARD MEMBRANE KEYBOARD SOLUTION

MANUFACTURING & DESIGN CAPABILITIES
* Designing by advanced software
* Dedicated & Qualified engineers
* Excellent Infrastructure
* In House Quality testing Machines 
* Selective UV printing
* Dedicated assembly line with SMD components
* Quality systems
APPLICATIONS
Electronic Instruments such as Industrial , Defense, Medical , Consumer, Telecommunication devices
| SAVIRA INNOVATIONS | YOUR BENEFIT |
| --- | --- |
| * Complete electronic solution provider | >Shopping under one roof. |
| * Extensive experience in electronic industry | >Alternative Solution |
| * Durability | >Less replacement cost |
| * Aesthetics | >Enhancement of your IMAGE. |
| * Timely delivery | >Faster Assembly |
BACKLIGHT TECHNOLOGY
We use electroluminescent lamp as a backlight technique in Membrane Keypads. ( For more details please refer Electro Luminescent Lamp Section
DOME STICKER
ticker are special sticker used for projecting companies logo/Monogram and can be affixed on their products. Dome sticker provides optimal UV protection intended for outdoor application. After treatment it forms a smooth glossy surface and remain crystal clear for a longer time. It is water, oil and weather proof . It offers good flexibility & mechanical shock resistance making it useful for affixing on various flat and curvical surface.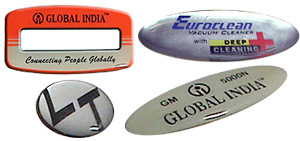 Iso 9001:2008
for the following activities
Manufacturer and Supply of P.u.. Logos, Graphic Overlays, Membrane Switches, Cards and printed Dials